Claim PDU for Watching Recorded PMI Webinars
---
Summary: If you are a paid member of PMI, you can watch recorded PMI webinars for free and claim 1 PDU per 1 hours of watching. The PDUs claimed in this way fall into Cat A: Registered Education Provider/PMI Component which has no upper limit per 3-year PMP certification cycle.
Earn PDUs by Watching Recorded PMI Webinars
If you would like to claim PDUs through watching recorded webinars, you must take note of the following points:
Go to http://lead.vc.pmi.org/Webinars.aspx, in the filter by field on the right column, choose recorded webinars


Click the title and scroll down and click the link beside the recordings field
There is no limit of PDU earned this way.
Only the "excessive" PDUs (up to 20 PDUs) earned in the 3rd year can be brought forward to the next certification cycle, you may not wish to earn 100 PDUs in the first year.
How to Claim PDUs through Watching Recorded PMI Webinars
Just now, I have watched the recorded webinar 7 Deadliest Communication Sins of Project Managers. The notes of the webinar have been added to this blog post.
Step 1 – Click the Overview Tab and Search with the Title
Step 2 – Choose the Activity and Click "Report PDU"
Step 3 – Choose the Date and Click Submit
Step 4 – Check your email
PMI will send you two emails almost immediately: one for acknowledging the receipt of your PDU claim and one for the approval of your PDU claim. Make sure you can receive these emails. Keep your notes on the webinar in a easily accessible place to act as an evidence for watching the webinar and I use my blog to store all lecture notes.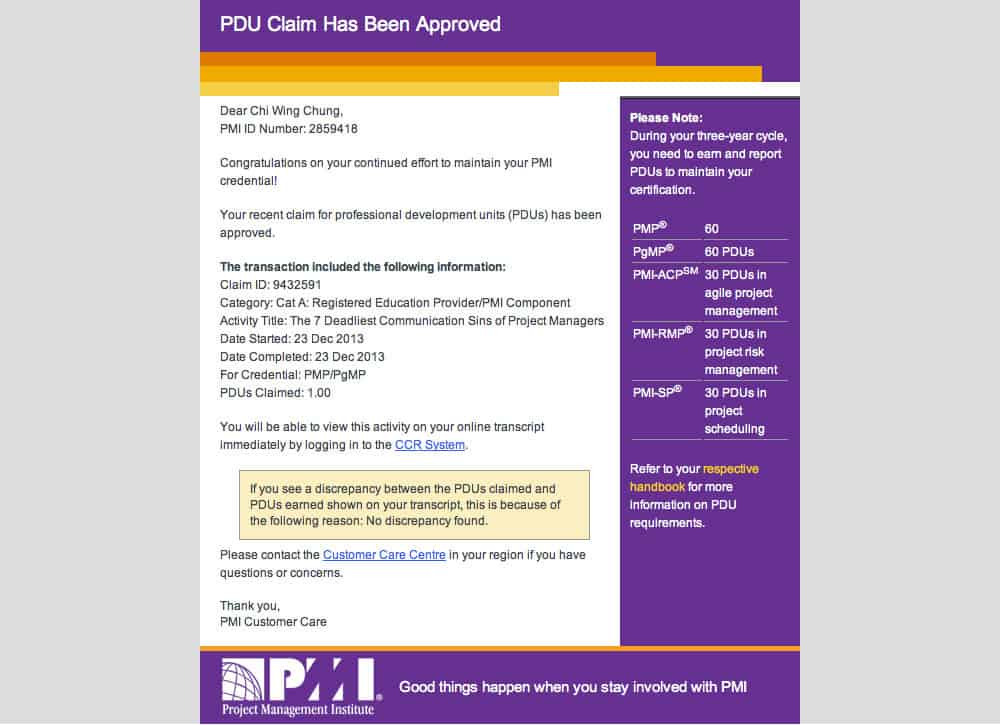 Most Popular PMP Certification Exam Articles